This Peppermint Chip Milkshake is a copycat recipe for Chick-Fil-A Peppermint Shake.  So you can enjoy it  at home…even on a Sunday.

My family loves Milk and I have been fortunate to work with them earlier this year with these amazing Nutella Mini Pies. They paired perfectly with milk and they were so delicious. Since I love using mason jars for serving drinks (these football mason jars were such a hit!) I immediately knew I wanted to create a Peppermint Chip Milk Shake. This peppermint chip milkshake is inspired by a milkshake from my favorite fast food restaurant, Chick Fil A. I think I might even like it even more than the original!  Check out other yummy desserts here. 
Growing up my mom was FAMOUS for her milkshakes. As a kid, I did not realize that it was not normal to have a milkshake machine in your home. Milkshakes were such a big part of our lives that when my parents remodeled their kitchen they put in a special cabinet that pulled out for the perfect milkshake making area. We called them "Momma Momma Milkshakes". We do not have a milkshake machine so we used a blender which worked well especially with breaking up the candy canes. When I made them the first time I crushed the candy canes in a plastic bag. The next time I made them I put them in whole and let the blender do all the work. I love being able to cut out unnecessary steps and have less items to clean.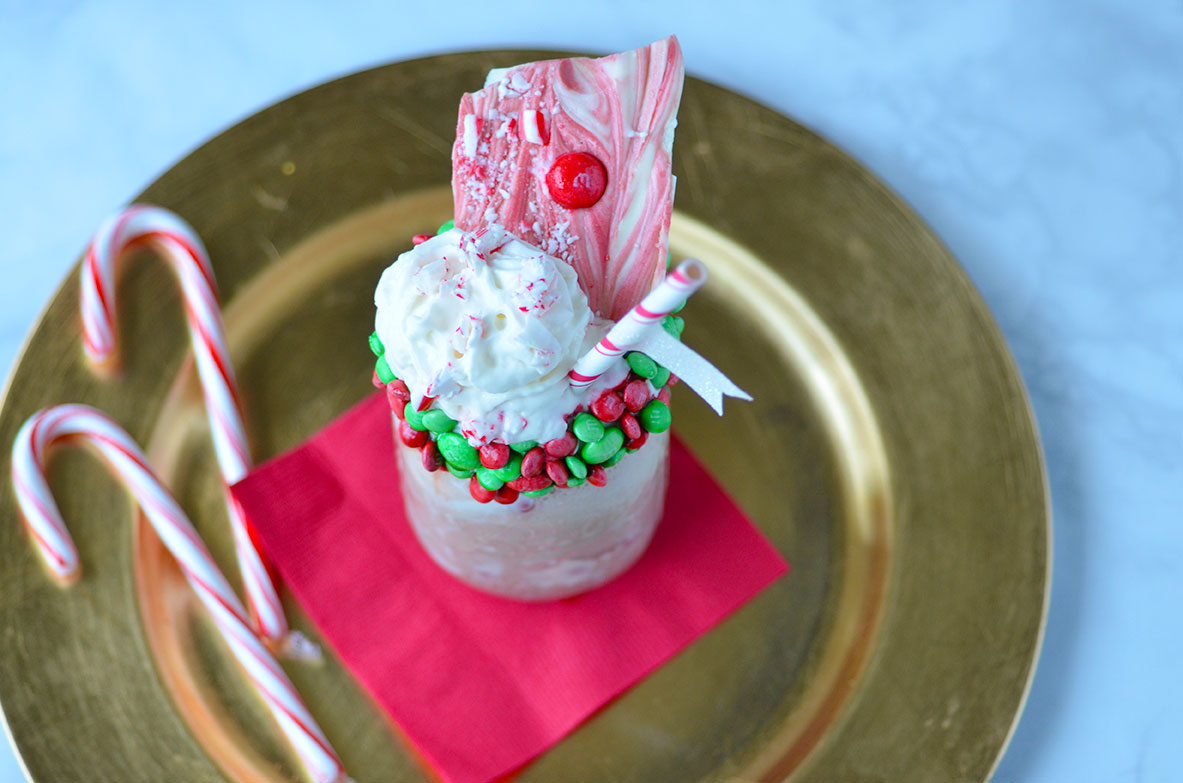 Peppermint Chip Milkshake
To make the shakes feel extra special I used my "secret" ingredient, M&M'S®to decorate the glass.  I also made some simple chocolate bark with M&M'S® White Peppermint.  I love making chocolate bark. It is so easy to make and there are so many varieties. Simply heat chocolate or candy melts in a microwave or double boiler. Then pour the melted chocolate onto a cookie sheet covered with parchment paper. Add additional colors if you want and swirl them together.  Finally add your toppings and place in the freezer or refrigerator until they are hard.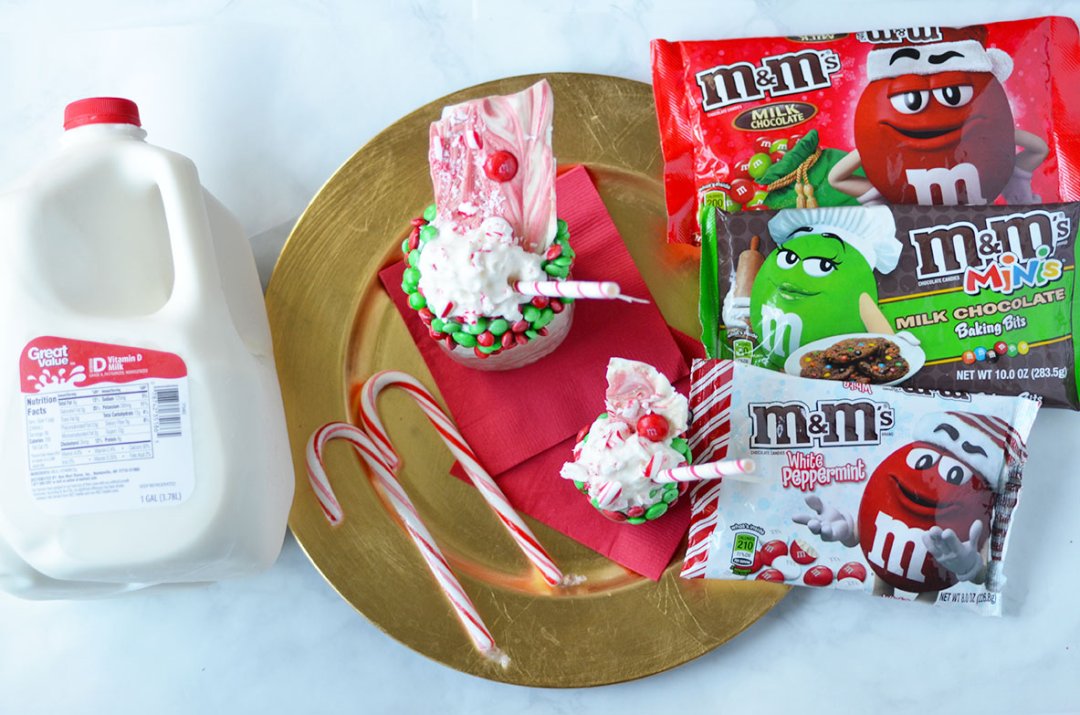 Ingredients to Make Peppermint Chip Milkshake 
Get the complete this below including your favorite ice cream, candy canes, mini M&Ms, milk and icing.
Pro Tip: I used a combination of M&M'S® Holiday and M&M'S® Brand Minis Milk Chocolate Baking Bits
Video: How to Make Peppermint Chip Milkshake
How to Make Peppermint Chip Milkshake 
*You can make them as mini or full size milk shakes.
Add M&Ms to the rim of the glass with icing while you make the shake.
Make the milkshake and fill it in the mug and enjoy.

Ready to head to Walmart to get all your ingredients.  Here is where you can find the M&M'S®, Ball® Jars and Great Value® Milk.
Who will you share a Peppermint Chip Milkshake with first?
Other Sweet Treats
Pin for Later: Recipe for Peppermint Chip Milkshake  
Print Recipe
Recipe for Peppermint Chip Milkshake
Servings:
1
large milkshake
Ingredients
Toppings for the Glass Rim
1

Ball® Mason Jar

1

spoonful

vanilla icing

¼

cup

M&M'S®
MilkShake
¼

cup

Great Value® Milk

You can use more or less depending on how thick you like it. You can also use the variety your family enjoys the most.

½

cup

M&M'S®

4

scoops

vanilla ice cream

6

Candy Canes or Peppermints, crushed
Optional Toppings
peppermint bark

made with candy melts and M&M'S® White Peppermint.

Whipped Cream

crushed candy canes

Straw
Instructions
Using a knife cover the rim of the Ball® Jar with vanilla icing.  Then add M&M'S® and place in the refrigerator while you make the milkshake

In a blender combine ice cream, Great Value® Milk, M&M'S®, and candy canes.  Mix until combined.

Pour into your Ball® Jar and top with whipped cream, crushed candy canes, peppermint bark and a straw.