This shop has been compensated by Collective Bias, Inc. and its advertisers.  All opinions are mine alone for DIY Monogram Mug. #TeaProudly #CollectiveBias 
If you read my post How to Organize Toys that was also sponsored by Bigelow you know I love Tea.  Just the smell alone takes me back to my childhood and our nannies from England.  They were like big sisters who introduced us to so many new things.  Some like tea were amazing.  Others like marmalade I never need to try again.
Much like a song, it is amazing the power that smells and flavors have to transport you back in time.  Almost every cup of tea reminds me of the amazing memories we had with our nannies over the years.  It is a tradition that I wanted to give to my daughter as well.  Unfortunately, the finishing school that all of our nannies went has closed.  So it looks like I will have to share my memories with her instead.  She already knows how mommy likes her tea.  We have lots of tea parties already. Cannot wait until she is old enough and we can have real tea time together.
Since it is the holidays I thought it was the perfect time to share share my love of tea with others.  I am also sharing how to make your DIY Monogram Mug and a Tea Time Gift Basket.  All you need is a basket, ribbon, blanket scarf, Bigelow Constant Comment tea, some sweet treats to pair with your tea and a fun printable.  I like to remove all the extras from their packaging. Since it is the holidays I went with plaid and gold.  So I tied everything together with clear containers and gold ribbon.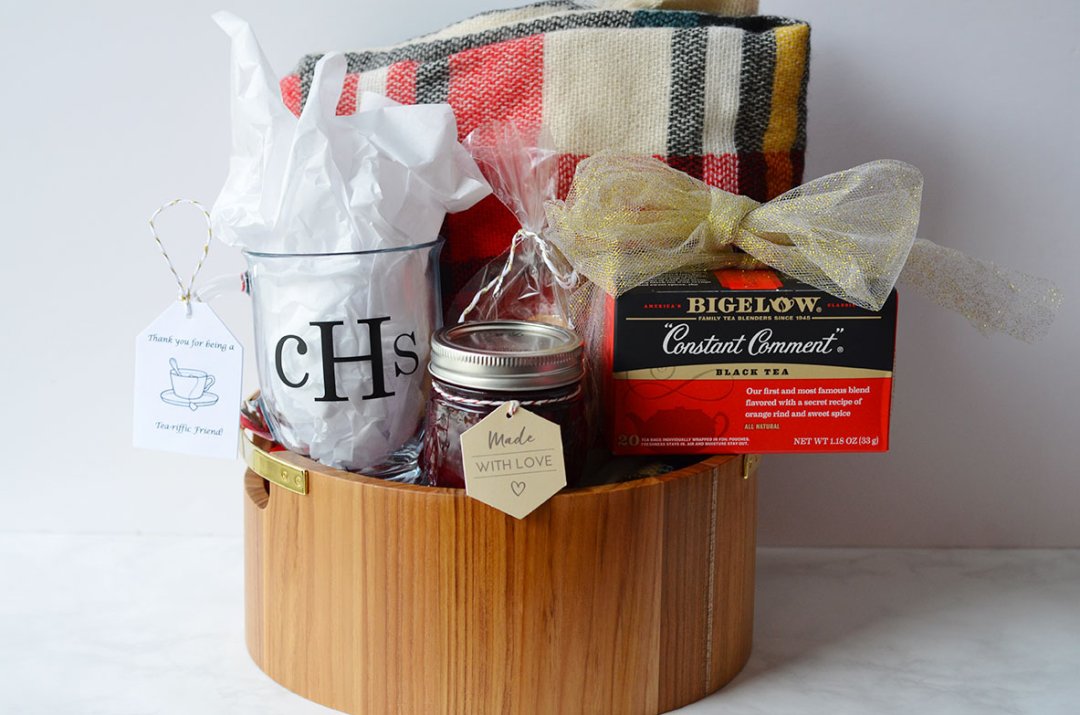 Hoover over the photo to purchase your Bigelow tea on walmart.com today!
DIY Monogram Mug
It is amazing how an item that can cost just a few dollars can be transformed into a customized gift with a simple monogram.  I also love to give practical gifts that friends can use all year and think of you when they do.  If you do not have a cutting machine you can also order pre-cut vinyl with the monogram online.  I love my machine, but there have been some projects where I was overwhelmed so I ordered the design and just applied it.

What you Need to make DIY Monogram Mug
Mug - I love an over sized mug.  You can use a clear or solid color mug.
Vinyl - Any color will work.
Transfer paper
Weeding tool
Hard surface to press the vinyl down.  I often use a credit card.
How to Make DIY Monogram Mug
Determine the monogram size needed
Design monogram on your computer.
Pro Tip: You can create your own monogram, find free monogram designs online or you can purchase a design through the marketplace of your cutting machine or online.
Use cutting machine to cut the vinyl.
Weed the vinyl (remove the excess vinyl.)
Add the vinyl to the transfer paper.
Place the vinyl in the center and press down to secure the monogram.
You can use the mug for your own tea time or add it into a basket for a gift similar to this one. 
Where to Shop
Head to your local Walmart to get all the supplies.  You can find Bigelow tea on the tea aisle.
Pin for Later: DIY Monogram Mug