DISCLOSURE: We partnered with Pumpkin Towne to host our Pumpkin Decorating Party.  They provided the pumpkins and adorable setup with the hay.  As a partner of Oriental Trading company we received the foam decorating kit at no charge. 
We love fall, as you can tell from past posts like our favorite pumpkin patches in South Florida. I have wanted to host a Pumpkin Decorating Party since Bailey was born.  Here are 4 steps so you can host your own.
HOST A PUMPKIN DECORATING PARTY
1. Location
You can host a Pumpkin Decorating Party at your home or a local park.  I love the idea of decorating pumpkins outside.  We partnered with a local pumpkin patch, Pumpkin Towne to host ours.  If you are local it is a great place to go for a fall experience and pumpkin picking.  See more below about our experience.
2. Tools to Decorate
There are so many different ways to decorate your pumpkins.  You can carve, paint, add glitter and confetti or our favorite the self adhesive foam cut outs from Oriental Trading and googly eyes.  If you are not hosting at a pumpkin patch you can let your guests bring their own pumpkin and their best ideas.  You can provide the tools, location and food.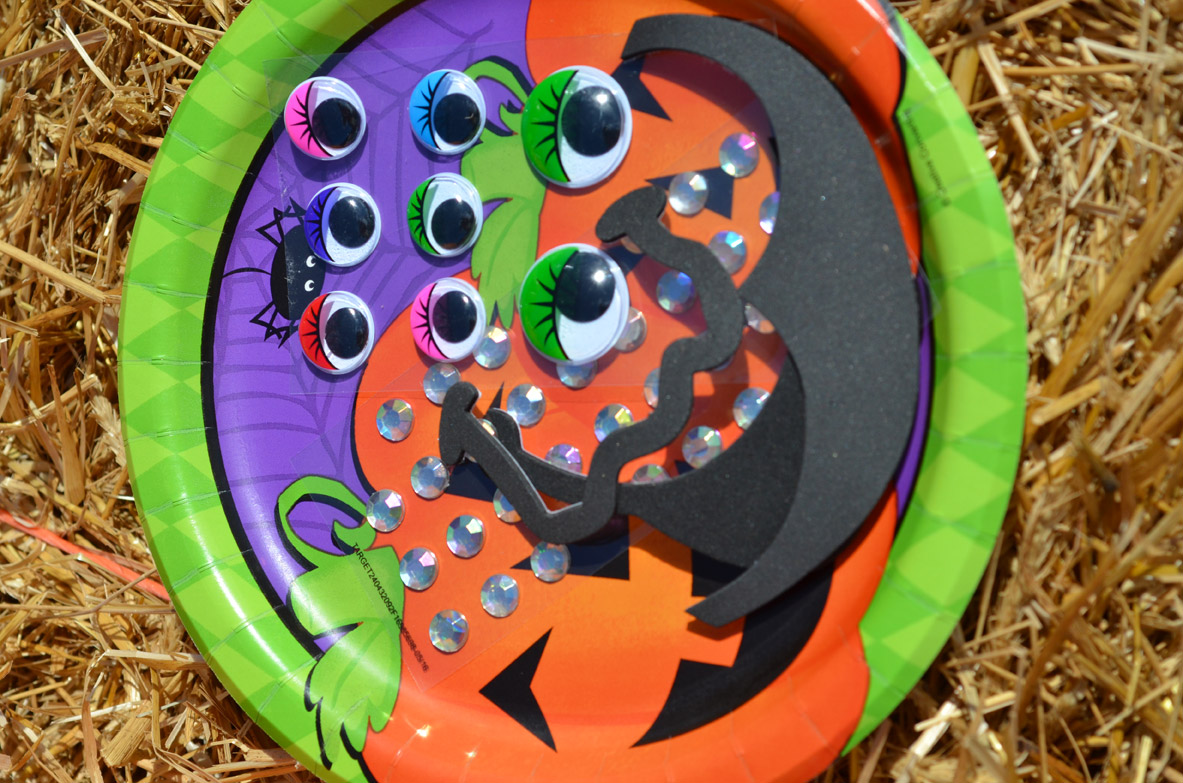 3. Food and Drinks 
Keep it simple.  Everyone's focus will be on the pumpkins.  For our party we served black and orange chips and grapes that were individually packaged as monster cups.  We also had sparkling mango juice in trick or treat milk glasses. These cups were ideal because they had tops.  We topped them off with straws similar to the Spooky Halloween Drinks we made last week.
4. Music
Pandora has great options for Halloween music.
Optional
Make it a contest.  Most Details Design, Most Creative, Scariest or Overall Favorite.
FALL FUN AT PUMPKIN TOWNE
This was our first time to Pumpkin Towne.  We had an amazing time.  Bailey had so much fun playing in the bounce house and the fall setups that she almost forgot we were having a pumpkin decorating party!
I love supporting family owned and run businesses! Pumpkin Towne has been around for a decade.  The family has also been selling Christmas trees in South Florida for over 30. The owner Jack and with his kids, who are young adults personally hand pick or "tag" all the Christmas trees in North Carolina, Michigan and Oregon.  While we were there Jack was working hard finishing setting up the pumpkins and the fall displays.  Pumpkin Towne has 3 locations in Jupiter, Stuart and Wellington.  When you go don't forget to share your pictures and tag them #pumpkintowne.
Have you decorated pumpkins yet?