This post has been sponsored by Coca-Cola. All thoughts and opinions are my own. Get inspiration for Pool party for kids, including swimming pool party ideas and pool party theme ideas.
Where has the summer gone?  I cannot believe we are already talking about back to school.  Since the water is our favorite place to be we thought the best way to celebrate going back to school was with a pool party for kids.
How to Throw a Pool Party for Kids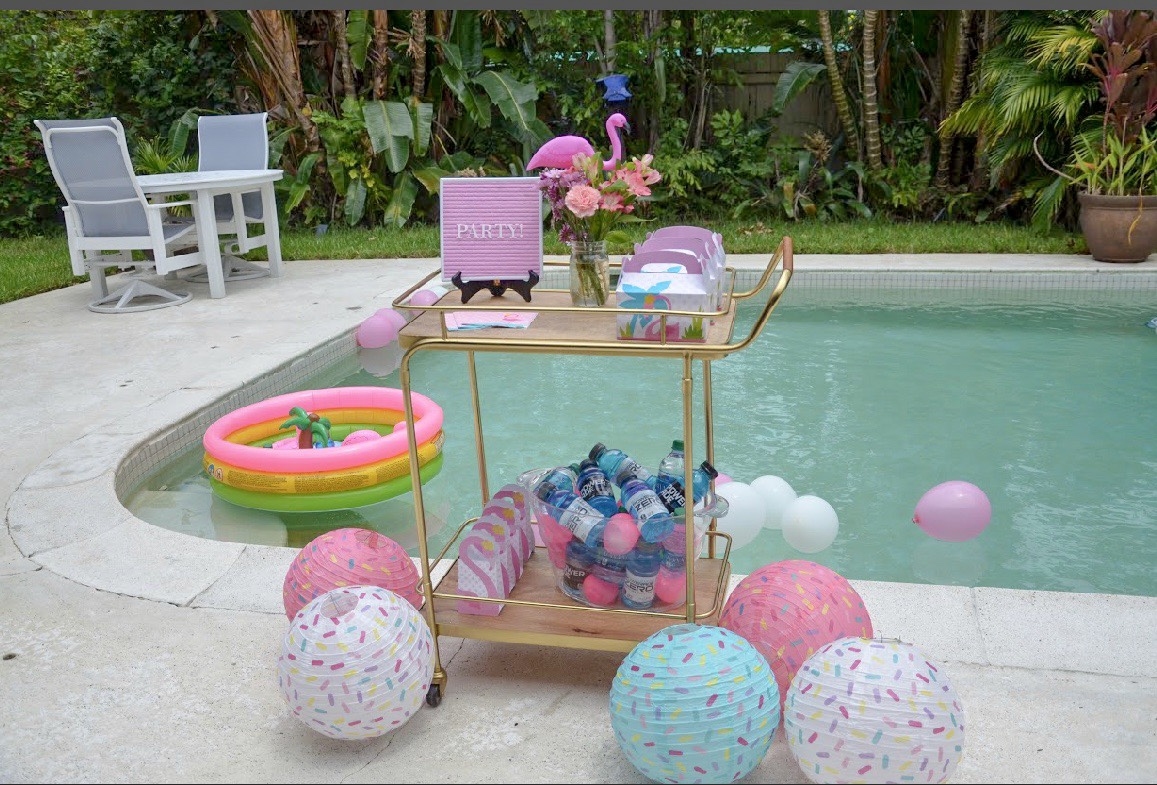 Invites for Your Pool Party for Kids
Invites for your pool party for kids could be as simple as a text invite to an invitation in the mail.  If you are looking for inspiration for an invite to mail you can use a permanent marker and write all the details on a raft.  Mail the raft to your friends and have them inflate it for all the details.
Decor for Pool Party for Kids and Pool Party Theme Ideas
Pick two to three colors.  For this party I picked blue, white and pink.  If you want to pick a theme select one that coordinates with your colors.  Since flamingos are a summer favorite I selected a flamingo theme.
Decorate your pool with balloons.  They add a fun pop of color and give your guests something to play with in the pool.  Fill the balloons up with a little bit of water and then blow up the balloon with air.  This will allow the balloons to have enough weight where they will stay in the pool.
Ice Cold Drinks for Pool Party for Kids
Since the summer is still steamy staying hydrated is really important.  B and I went to our local Winn Dixie and picked up POWERADE®, POWERADE® ZERO and DASANI®.  Winn Dixie has a great selection of drinks. Powerade is the perfect active hydration product and can be found sports drink section.
DASANI® combines the process of reverse osmosis filtration with a proprietary blend of minerals to create fresh, clean, and premium tasting water that is pure and delicious. You can find DASANI in the bottled water section of your local Winn Dixie.
I love the smaller size of both the Powerade and Dasani because they are ideal for kids.  Put the drinks into an open cooler so it is easy for your guests to see all the options and grab them as they need.  Instead of ice you can use frozen water balloons.  I love the pop of color it adds to the cooler and there is less mess than ice that melts very quickly when you are outside.
Now is a great time to stock up on these drinks. Use this coupon. Find your local Winn Dixie here.
And a bonus as they melt you can use they as water balloons at the end of the party.
I also put some drinks into a kiddie pool so that the kids can grab a drink when they are still in the pool.  Add some flamingo drink floats for extra fun.
Snacks for Pool Party for Kids
When we were at Winn Dixie I let B pick out her favorite snacks.  We also made sandwiches and packed them into these adorable flamingo lunch boxes.
Sun Protection and Towel Station for Pool Party for Kids
Help your guests stay burn free by setting up a sun protection station to ensure everyone is lathered up and pool ready. And include a towel station in case your guests forget to bring their towels.
Who will you invite to your Pool Party to celebrate the end of summer?
Pin for Later: Pool Party for Kids