This shop has been compensated by Collective Bias, Inc. and its advertiser for New Puppy Checklist. All opinions are mine alone. #ProtectFromPetMess #SeasonalSolutions #CollectiveBias .
This summer we adopted Addison, a golden doodle.
For a year we had been looking for a golden doodle.  We wanted to adopt a dog, but we were having trouble finding the right dog. The ones we like were out of state.  I do not enjoy driving so I idea of driving to Texas was overwhelming.   We had almost given up on finding the right dog. We had even researched a breeder as our plan B.  I will never forget it I was on Facebook and saw a photo of a super nervous dog named Brenda.  The photo was a photo of the website and quality was so terrible I did not realize she was a Golden doodle.
I immediately emailed the contact and shared how our daughter often asks to go to heaven so she can visit our last puppy who went to heaven last year.  At 7am the contact from the Golden Rescue South Florida called me.  She said she was so touched by our story she wanted us to have Brenda. The catch was she had not met her yet. All she knew was that she had been surrendered by her family and that she was at a kill shelter in Miami.  She knew our neighborhood so we were able to skip the normal house visit.  If we wanted to even meet her we had to agree to foster her for a week.  A couple of hours later Brenda arrived at our house and our lives have never been the same. The photo below was from the first day she became part of our family and we changed her name to Addison.  Our love for her was instant!
As I type this post she is currently snuggling with B in the back seat as we drive home from evacuating from Hurricane Irma.
This is the first time we have had a big dog. From dog beds to toys and to accidents everything feels different with a big dog.
New Puppy Checklist
Food & Bowls:
It is no surprise that our daughter picked out the pink and white bowls for our new girl.  Make sure you pick the size right for for your dog.  For food recommendations I called our vet and they recommended we look at the ingredients and make sure a protein was one of the first ingredients.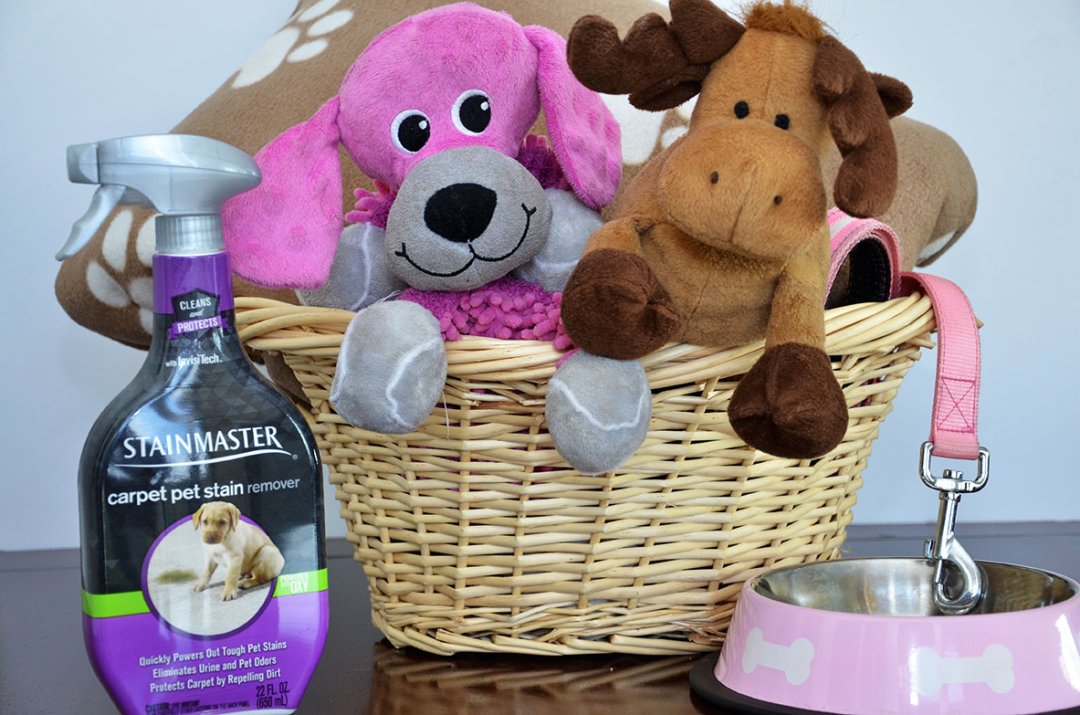 Interested in using STAINMASTER®™ Carpet Pet Stain Remover this fall season? Hover over the photo to click through to Target.com and buy it!
Cleaning Products:
Pets and carpet aren't always a perfect match but STAINMASTER®™ Carpet Pet Stain Remover. It lifts away tough pet stains and eliminates odors. Some other stain removers can leave a sticky residue that can attract dirt over time, but their breakthrough technology is designed to quickly clean on contact and repel dirt to protect against re-soiling to keep your carpet looking newer longer. And you can breathe easy thanks to our powerful ODOR REMOVE™ technology, which starts to eliminate odors within minutes.  My favorite part is that it not only removes the stain, it always protects against future stains.  It leave behind an invisible shield to repel dirt.
Great for pet stains like urine, vomit, and feces, and everyday stains like coffee, grape juice, jelly, chocolate syrup, ketchup, dirty motor oil, and soil.  STAINMASTER® Carpet Care products are designed for use on stain resistant, nylon, polyester and polypropylene color-fast carpets and rugs. We do not recommend using these products on upholstery, handmade, viscose, natural fibers (including wool and cotton), oriental, antique or bath rugs.
ID Tag, Collar & Leash:
At our local pet store they had a machine that made us an ID tag while we waited.  We found this pink leash online.  It is so cool, it lights up for night time walks.
Treats and Toys:
For treats we reuse snack containers like this nut container and add in the treats so they stay fresh and we can see if we are running low.  Addy knows the sound of the container opening and always comes right away.  With our little dog we could get away with her playing with some toys that were not specifically designed for dogs, but with a big dog we only buy toys that are specialty designed for dogs.
Brush and Shampoo:
We have been bathing Addy once a week in our outside shower so we go through lots of shampoo.  Brushing her regularly means less hair on the ground.  Which is a good motivator for me.
Medicine:
Heart Worm Medicine and Flea and Tick Prevention are a must for all dogs.
Bed and/or Crate:
We are crate training Addy.  At first I was not sure how I felt about having her sleep in a crate, but she loves the crate so much.  During th eday if I cannot find her I know just where to look for her.
Any items you would add to our New Dog Checklist?  Click here for more inspiration.
How To Use STAINMASTER Carpet Pet Stain Remover:
1. SPRAY: Spray product liberally and directly on affected areas.
2. WAIT: Wait 3-5 minutes to allow solution to penetrate the stain.
3. BLOT: Dampen the spot with water and blot with a clean, colorfast paper towel or cloth. Repeat as necessary to remove the stain. For best results treat stain immediately.
Where to Buy Products for New Puppy Checklist:
You can find your STAINMASTER Carpet Stain Remover on the Cleaning Aisle at Target.
Pin for Later: New Puppy Checklist: