This shop has been compensated by Collective Bias, Inc. and its advertiser for 5 Money Saving Tips for Big Dog Owners.  All opinions are mine alone. #FortunaForAll #CollectiveBias #cbias
As a child we had a black lab Bentley. He was the best dog. I always envisioned having a big lab when I had a family. I got my first dog right after graduation from college. Since I loved to travel I got a Maltese, Mac. She was my buddy and went with me everywhere since she was only 10lbs. She has traveled all over the country. When she passed away I decided it was time to get a big dog. Last summer we rescued Addison, her name was Brenda, from a Miami Dog Shelter. I was not fully prepared for the difference between a small and a big dog. We are about to celebrate a year with Addy in our lives and I have learned so much about having a big dog including these 5 tips for saving money with a big dog without sacrificing quality. 
5 Budget Saving Tips for a Big Dog
Boarding
We love to travel so boarding is a big budget for Addy. Did you know that many places have a sliding scale based on your dog's size for boarding? It makes sense because a larger dog could take up the space needed for two smaller dogs. Our first trip we took Addy to our regular boarding at our vet we almost fell over when we picked her up and paid the bill. After that we asked the front desk if any of their vet techs watched dogs. Sure enough the sweetest vet tech takes dogs into their home. Addy loves going to her house and playing with her dogs. She comes home exhausted and happy. And our bill is half. Talk about a win win.
Dog Food
With Mac we used to buy a big bag of food and it would last of all year. Now it feels like we are running to PetSmart all the time.  Which is a win because we love going to PetSmart.  Bringing your dog to the store is a huge bonus.  And there selection is the best.  
On this trip we bought Purina® ONE and Purina® Pro Plan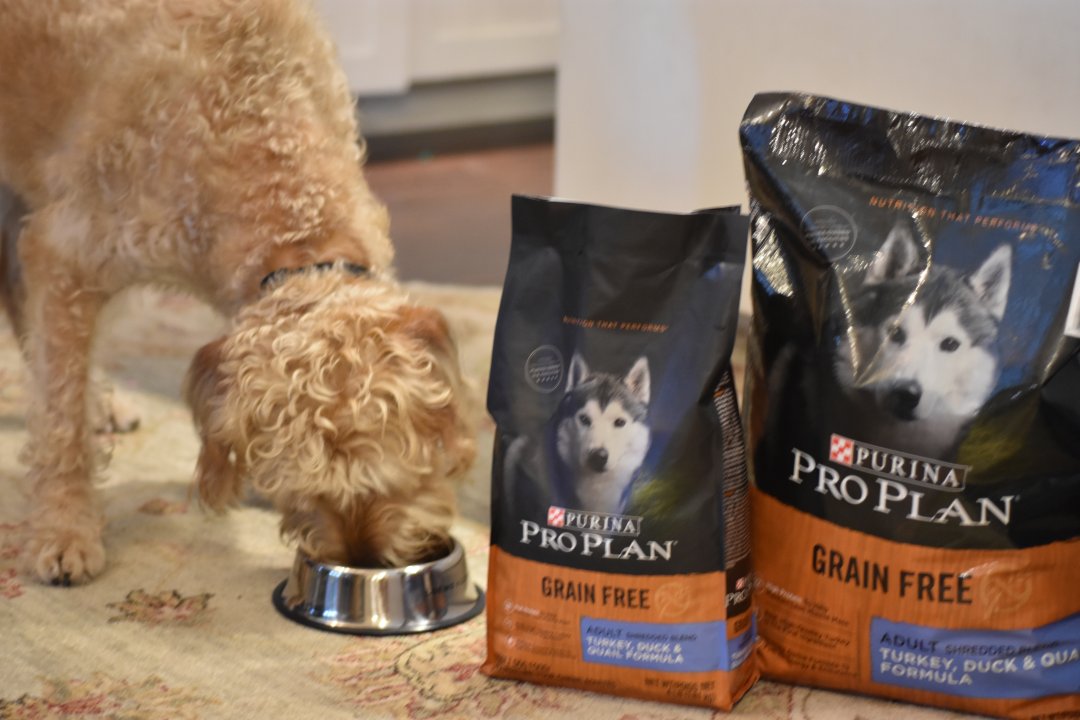 Click on the photo above to order this food online.

Purina® Pro Plan Grain Free Turkey, Duck and Quail formula including real, high-quality protein, including turkey as the first ingredient. And alternative sources of carbohydrates - made without grain or soy. We also bought Purina® One Smart Blend Chicken & Rice formula. Purina One Chicken & Rice Formula Dog Food has real chicken is our first ingredient, because it's tastefully rich in protein.
PetSmart is having their Purina Fortunes Sweepstakes* now until May 31, 2018 so this is a great time to stock up on dog and cat food. When you spend $20 you get a $5 PetSmart gift card, as a gift with purchase**.  Get all the details here.  You can redeem for multiple gift cards. Simply purchase $20 of Purina products in a single transaction at PetSmart for your first submission. Subsequent purchases can be on multiple receipts.Then register with your contact information and receive an entry into the Grand Prize Sweepstakes. You can upload your receipt on PurinaFortunes.com and upon validation of purchase will receive notification your gift with purchase.Bonus entry: Share the details with your friends, on Facebook and Twitter from PurinaFortunes.com.
Play the Paws of Fate game at PurinaFortunes.com to instantly win prizes such as PetSmart gift cards, as well as Save a Fortune tarot cards
Prizes:
2 Grand Prizes:
1 Dreams of Fortune Cat Bed – AVR: $2,145
1 Dreams of Fortune Dog Bed – AVR: $2,145
Instant Win Game Prizes:
Purina Branded Tarot Cards (50 total) – ARV: $25/ea
$50 PetSmart Gift Card (15 total) – ARV: $50.00/ea
$25 PetSmart Gift Card (15 total) – ARV: $25.00/ea
$10 PetSmart Gift Card (25 total) – ARV: $10.00/ea
No purchase necessary to win.
Quality Toys
Since Mac was a small dog I could buy her anything and it would never break. I would even give her regular toys for kids and they would last for forever. With a big dog like Addy we quickly learned that you need to buy quality toys that are made for large dogs if you want them to last. I recommend spending more money upfront so you have to buy less of them. Her favorite bone was $20 and at the time I thought it was a crazy price. 6 months later she is still enjoying that bone and I realize we would have spent so much more on bones if we had given her the smaller less expensive one that she would have finished in a day or a week.
Grooming
I thought grooming was one line of the dog budget that would decrease. Mac got hair cuts every 4-6 weeks. Like everything with a big dog Addy's grooming is more expensive and since she is goldendoodle she needs regular hair cuts. We did a simple cost comparison after getting recommendations from friends of where to take her. I was shocked at the large range of prices for similar services.
Dog Walking 
We joke that we know why Addy was a rescue. Without two walks a day she is a crazy dog. I am lucky to work from home so most days I am able to walk her at least twice a day. Recently my travel schedule has been crazy so we have been using a dog walker. It is a concept that I never thought about when we had a small dog who really did not need a walk ever. Instead of hiring a professional dog walker we use our neighbors who are in high school. Since they don't have to drive to our house and because they are just kids they charge a lot less.
Click here to see more tips and get access to the Rebate/Instant Win site.
Pin for Later: 5 Money Saving Tips for Big Dog Owners
* Physical $5 PetSmart gift card will be mailed to you in 8-10 weeks to use for follow up visit
** Make purchases 4/3/18-5/18/18; Promotion ends 5/31/18.